Course Description
Learn karate! Through this free course you'll be taught the basics of Seiyo-no Shorin-Ryu Karate. Experienced instructors will introduce you to this ancient Okinawan-style martial art.
1

Success Notebook Cover (download)

2

10th Kyu White Belt Checklist

Youth Students Age 12 and Under: How to Earn Tips For Your Belt

3

How to Tie Your Karate Belt

How to Fold Your Karate Uniform

Personal Etiquette in the Dojo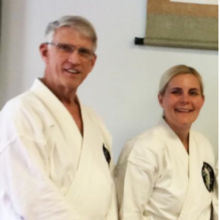 Sensei
Ronald Leach and Vashon Borich-Leach
Sensei Borich-Leach has been studying, competing and assisting students in the martial arts since 1992. She is currently a 5th Dan (5th degree black belt) in both Seiyo No Shorin-Ryu Karate and Kyokushin Karate. She has over 4,000 hours in teaching youth and adult karate classes. From 1999-2009 she built her martial arts background in the Kyokushin-Kai Karate lineage. In 2010 Sensei Borich began working with Kaicho Harold Mead, 10th Dan and Hanshi Ronald Leach, 9th Dan Instructors in Seiyo No Shorin-Ryu Karate & Kobudo Kai. Her continued studies have added additional experience in traditional weapons, jujitsu and advanced martial arts techniques. Sensei Borich enjoys sharing this knowledge back to her students.Ronald Leach, Hanshi relocated from Minnesota to Branson in 2014. Together with Borich-Leach Sensei they offer a variety of different Martial arts classes. Hanshi has studied and mastered many different martial arts styles through almost 40 years of continuous study. He is an expert instructor who is considered a "teacher's teacher." Black belts from many different martial arts styles and schools come to him for advanced training.
This course gets you started with the martial art of Seiyo-No Shorin-Ryu Karate. 
You may also be interested in...
$40.00

$40.00

10th Kyu - White Belt Curriculum

Buy Now